Bike Bell Program
A major effort that SDMBA work on year round, is trail etiquette education for ALL trail users. While slowing down, speaking up and giving respect to other trail users is key, having a bell on your bike goes a long way. While first started as a way for hikers to let bears know of their presence, bear bells attached to mountain bikes make it very easy for hikers, equestrians, and other bikers to not be surprised by an oncoming mountain biker.
While bells are a tool to let other users know of your presence, the best way to ensure a pleasant time on the trail for everyone, is to smile and say Hi!
Be Nice - Say Hi! Go Slow - Say Hello!
This helps everyone have an enjoyable time in nature, helps prevent misunderstandings, and improves safety.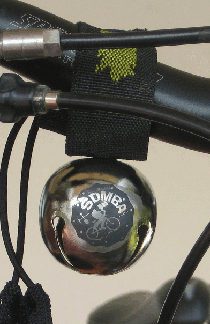 SDMBA's first set of bike bells were provided through a generous grant from our friends at REI. SDMBA desires to expand the Bike Bell Program to new locations throughout the county. If you would like to help, SDMBA can always use a few extra funds to buy more bells and build distribution and collection boxes.
Bike Bell Stations in San Diego County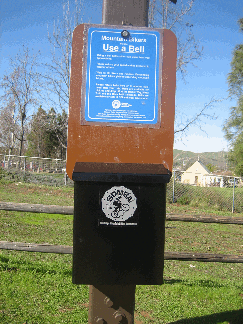 Existing:
Cowles Mountain: 3 boxes
Mission Trails: 2 boxes
Elfin Forest:1 box
Tijuana River Valley: 2 boxes
Noble Canyon: 2 boxes
Program Short-Term Success
Provide increased safety and awareness at individual trails as needed.
Program Long-Term Success
Increased awareness of trail users, reduction in mountain bicycling and other trail user accidents and conflicts, increased enjoyment of trails, increased safety are the primary benefits of the SDMBA Bike Bell Program. Placing distribution and collection boxes at busy trail heads provides free loans of bells that can assist all trail users (families, mountain bicyclists, hikers, naturalists) on their journeys.
Program Success Monitored By
Bells often removed from distribution and collection boxes reflecting popularity of these items. Replacement is an ongoing need.