Trail Education/Etiquette
Consider joining SDMBAtoday as we continue to provide you with the
information you need during this challenging time!
Basic membership only $39
Join HERE
---
January 26, 2020
New California State orders have lifted the Stay at Home Order. At this writing, trails and most open space parks and trail heads remain open. Check current conditions after recent storms. Public campgrounds are working to re-open. This includes Federal (Cleveland National Forest), State (Cuyamaca Rancho State Park, Palomar State Park, Anza Borrego State Park, etc.) and County and City managed Campgrounds. Check with private campgrounds for their individual status. Please check individual park websites for any details or updates.
---
COVID-19

As most trails, open spaces and parks are re-opened under the COVID-19 guidelines, we invite you to check all direct links from jurisdictions and agencies below to check on current status.
Resources Covid-19 Public Health Crisis -
When you do head out please:
Adhere to all CDC guidelinesand County guidelines.
Some parking areas are still closed or limited. Avoid impacting neighborhoods near trailheads.
Respect any remaining closures.
Have a mask or face covering handy for times when you may come within 6 feet of someone not in your household. During active exercise activities, masks are not required but should be readily available to use when encountering others on the trail.
Ride solo or only with people from your household.
Go early. Go late. Avoid times of high impact and traffic.
If you have other new information not included here please email info@sdmba.com
---
COUNTY OF SAN DIEGO
County of San Diego Parks and Recreation Updates- most recent update 12/7/20
Most county trails are OPEN. Parking open at 100%. County Campgrounds are closed due to new restrictions.
Full status list of County Parks and Amenities
Sweetwater Bike Park is open as of 11/1/20.
9:30 a.m. - 5 p.m. daily. 60 riders/spectators at any given time. Facial coverings must be used if within 6 feet of another person in the park.Other guidelines posted at park. Any precipitation will cause a closure so the track can dry.
---
CITY OF SAN DIEGO
City of San Diego Parks and Recreation Updates-
6/1/20 Most parks, trails and open spaces OPEN. Most parking open.

Fall 2020: Pacific Highlands Ranch Pumptrack temporarily closed for new fencing.

COMPLETE PARK LIST HERECity of San Diego Main Covid-19 Resource Page
---
FEDERAL:
Cleveland National Forest -

FIRE CLOSURES supersede all the following previous orders.
includes Mount Laguna, Noble Canyon, Corral OHV/Lake Morena, Mount Palomar, etc.
Here is a complete status list for the Descanso, Palomar and Trabuco Districts.
Updates on Cleveland National Forest Camping at
Recreation.gov
-
US Fish and WildlifeSan Diego National Wildlife Refuges
- Mother Miguel/Rock House currently
OPEN.
Please use authorized access route.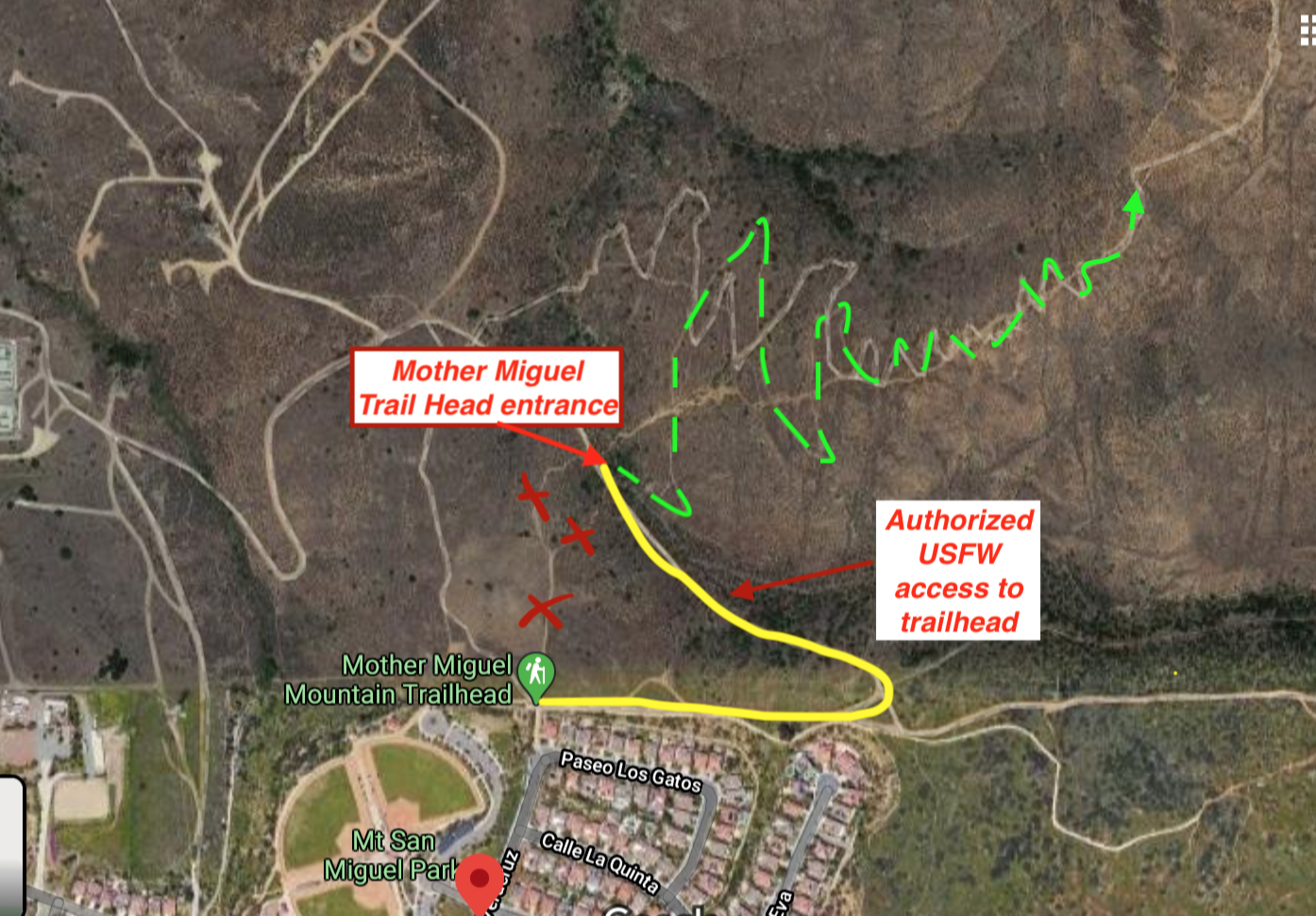 Do not cut straight across SDG&E property and avoid impacting neighborhood parking.
Please report any vandalism to 619-468-9245
---
STATE:California State Parks Covid-19 Updates6/5/20Cuyamaca Rancho State Park
- Open with some limitations
Anza Borrego State Park
- open for most day use and camping activities. Some limitations on facilities, trails and campgrounds.
California Department of Fish and Wildlife -Hollenbeck Canyon Wildlife Area- 5/1/20
OPEN
- permit required.
Please report any vandalism here: tracie.nelson@wildlife.ca.gov
Crestridge Ecological Reserve
- trails remain OPEN for local use.
---
OTHER AGENCIES AND JURISDICTIONS:San Dieguito River Park/Lake Hodges Update 7/1/20
. ALL trails, staging areas, parking lots and restrooms in the San Dieguito River Park are open to the public.
Elfin Forest Recreational Reserve- Open as of 6/15Rancho La Costa Preserve
-
5/7/20
All trails
OPEN
per Center for Natural Lands Management. Trails limited to local use. Do not impact parking in neighborhoods.
City of Carlsbad
5/4/20
Most parks and trails open 6 a.m. - 8 p.m.
City of Chula Vista 5/15/20
Parks and trails open for local use for running, cycling, or walking. Most Parking is open.
City of Escondido- 6/3/20
Daley Ranch OPEN with full parking.
City of San Marcos
-
5/11/20
See link for details.
City of Poway 5/4/20
- Lake Poway Trails, Iron Mountain Trail, and other Poway Trails
OPEN.
City of Santee 4/23/20
Trails and Walkways OPEN
City of Vista
5/1/20
- Most Parks and trails OPEN. See link for details.
Fallbrook: Santa Margarita River Trail Preserve 5/9/20
- Trails open
local
traffic.
---
SHARE AND BE AWARE Trail Etiquette Video
SDMBA is proud to have partnered with the County of San Diego and other local trail groups in 2018 to produce a trail etiquette video
Be an trail ambassador each time you hit the trail. Be nice and Say HI!
---
General Trail Etiquette for All Trail Users

Our conduct on the trails is key to maintaining mountain bike access.We encourage you to ride with these points in mind for a pleasant and safe trail experience for all trail users and animals. Utilizing these tips can also help us open more trails to mountain bikes.
---
What does "yield" really mean?Yield means slow down, establish communication, be prepared to stop, and pass in a safe and friendly manner.Hikers yield to horses, and bikes yield to hikers and horses as shown by the arrows on the multi-use yield sign.

Respect.It's a simple concept: If you offer respect, you are more likely to receive it. All trail users have rights and responsibilities to each other,andto our trails.
Smile. Greet. Nod. Every user on the trail is a fellow nature lover. Be friendly and expect to see other folks around every corner. Remember, "BENICE, SAY HI"
Don't block the trail.When taking a break, move to the side of the trail. Don't stop or lay a bike or backpack on the trail, especially on a blind corner.
Don't tune out.If you wear earphones, keep the volume down or only wear one earpiece so other trail users don't surprise you.
Share and Care.We all share a love of nature, open space and trails. It's important that all hikers, equestrians and mountain bikers unite tosupportand care for our trails and public lands. Shared-use trails are cost-effective, minimize impacts on the environment, provide the most userswith the most trail opportunities and build happier, healthier communities. We all value and support our public land managers and our trailscommunity.
---
Mountain Bikers, What can you expect?
Surprised trail users.Fast-moving bikes can startle others, especially when coming around a blind turn or approaching from behind.

What is your responsibility?
Mountain bikers yield to hikers, horses and uphill-riding cyclists.

Slow Downaround other trail users and anticipate people or animals around blind turns. Consider using a bell to help avoid surprising others. Be exceedingly friendly and communicative. On wider trails and fire roads keep to the right. Always ride under control and avoid skidding. Never put others atrisk.
PASSING HIKERS:
Greet hikersearlywith a friendly "howdy" or "good morning."
SLOW DOWNto about the same speed as the hiker.

Pass slowly and be prepared to stop if necessary. Others' perception of a safe, courteous speed may be different to yours. Show your appreciation if they step to the side for you.

Expect the unexpected.People and animals can beunpredictable or easily spooked or startled by cyclists.
PASSING CYCLISTS:
Announce your intention to pass with a friendly "Let me know when it's safe to pass."

Use the "singletrack yield"on narrow trails: the yielding rider should stop to the side, put one foot down and lean both body and bike away from the trail.

Give uphill riders the right of way when you're going downhill. It's much harder to get started again on a climb.
PASSING HORSES:
Immediately slow down

and

stop at least 30 feet from the horse.

Greet the equestrian and the horse. Speaking shows the horse that you are human and not a threat.

Ask how or when to pass safely. Offer to get off your bike.

Pass slowly and steadily, but only after the equestrian gives you the go-ahead. Sudden movements or noises can spook a horse. Where possible, pass on the downhill side of the animal.
---
Let's work together to keep ourtrails safe and enjoyable for all.
See the Rules of the Trail from the International Mountain Bicycling Association (IMBA)HERE
Guidance fromtrailetiquette.org