Trail Building and Maintenance

Trail work is the primary focus of everything that SDMBA does! Volunteer trail work days allow us to work with land managers to promote access to trails by helping to design, maintain, and build sustainable trails for all users. Most projects, whether trail maintenance or new trail, can take months if not years of planning by SDMBA staff and volunteers working hand in hand with land managers and agencies.
Trail work Days are an important element of promoting access to trails by helping to design, maintain, and build sustainable trails for all users. Trail building and improvement includes construction of bridges, cutting fresh trails, repairing damaged trails, working around endangered habitats and species all while working with public, private and military property owners.
SDMBA secures and maintains a wide variety of tools from hand tools to a mini excavator, a plate compactor, a motorized wheelbarrow and water delivery systems. SDMBA strives to hold Trail Crew Leader Trainings annually to increase the capacity of our volunteers. We organize volunteers into workable trained teams, train team 'trail bosses', developing robust relationships with area Liaisons and agencies, and providing a majority of work during our brief rainy season when trails are most workable.
2019 Highlights:
60 Trail Work events with over volunteer 6000 hours logged by over 350 individuals
Two free Trail Crew Leader Trainings held in 2019-20 at Balboa Park and Daley Ranch attended by over 25 people.
Work locations included Black Mountain, Mount Laguna, Mother Miguel/Rock House, La Costa, Penasquitos Canyon, Florida Canyon, Sycamore Canyon/Goodan Ranch, Daley Ranch, Pacific Highlands Ranch, and more.
SDMBA purchased a mini excavator with funds from REI and the County of San Diego to build and maintain trails. This invaluable piece of equipment helped with projects at Black Mountain, Deer Canyon, Mother Miguel and also during construction at the Sweetwater Bike Park.
2019 marks the first year that SDMBA had trail work events scheduled throughout the summer with over 5 miles of trails trimmed on the Cleveland National Forest
Some past trail work highlights:
2013: Bridge installation at Copper Creek and trail improvements at Rancho La Costa Preserve by local advocates and SDMBA volunteers.
2015: SDMBA helps construct the Cold Stream Trail at Cuyamaca Rancho State Park in cooperation with the Trails Maintenance Unit and staff of CRSP.
2015-2020: New Trail Development and construction at Black Mountain Open Space Park including Ahwee, Lilac, Manzanita, Little Black and Black Widow Trails.
March 2016: SDMBA held a Trail Crew Leader Training for 30 volunteers that included a morning classroom session and an afternoon in the field working a trail project for the Escondido Creek Conservancy.
2016: Construction of the Appendix Trail at Del Mar Mesa with the assistance of the IMBA Trail Care Crew
2017: Historical agreement reached with MCAS Miramar for permitted access to the Stowe Trail connecting Santee and Sycamore Canyon/Goodan Ranch.
2017 Trail Work Season: SDMBA volunteers logged over 2000 hours at over 30 organized trail work days by over 200 individuals. SDMBA volunteers maintained many trails in 8 parks, preserves and open spaces throughout San Diego County.
November 2017: SDMBA held the first Trails Stewardship Summit hosting over 100 volunteers and professionals from around the county and multiple agencies for two days of workshops and two days of field work. The field work trainings were held at Crestridge Ecological Reserve and the Laguna Mountain Recreation Area of the Cleveland National Forest.
2018 Trail Work Season: Over 1200 hours logged in over 35 organized trail work days by 100 individuals. This season also marked the first use of a rented mini excavator by SDMBA staff on trail projects at Black Mountain and the new trail connecter at Deer Canyon (City of San Diego), and reroutes at Mother Miguel (USFW).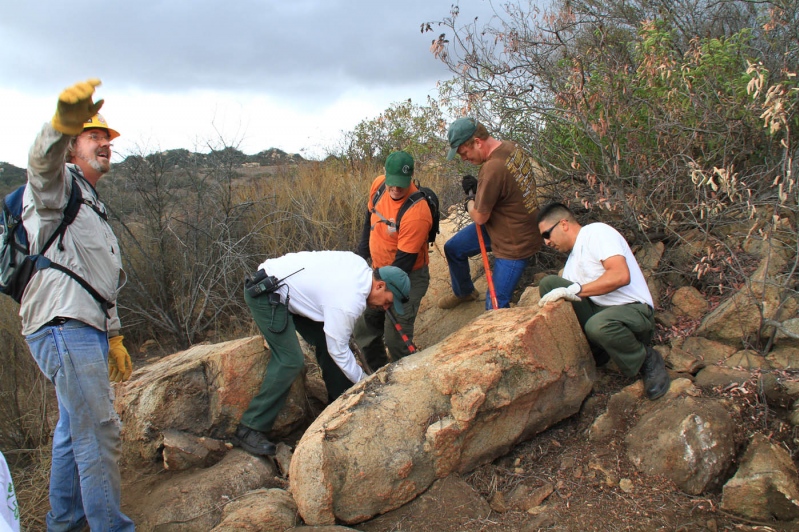 Program Long Term Success:
Since 1994, SDMBA has a history of continuous development of trails throughout San Diego Country with successful track record of improving and building sustainable, accessible trails sometimes through endangered habitats with cooperating of related land managers.
Program Success Monitored By
Recording of board minutes, press coverage, work with land managers, involvement with regional Citizen's Advisory Commitees and other community organizations.