Join Today!



WHAT IT MEANS TO BE A MEMBER



Supporting advocacy efforts for new trails, existing trail improvements, and bike parks

Funding trail restoration, maintenance, planning, and development projects

Supporting operating costs including trail equipment, tools, insurance, planning, and staff

Training and rewarding, and nourishing our hardworking trail volunteers

Planning events including the Arch Ride, Mt. Laguna Trail Fest, and kids-friendly events

Playing your part in building a legacy of legal trails in San Diego County


---
FEBRUARY MEMBERSHIP INCENTIVE
ARCH RIDE ENTRY & SWAG GIVEAWAY

ARCH RIDE ENTRY & SWAG GIVEAWAY
We're choosing two random winners this month and giving each winner two Arch Ride tickets and two event t-shirts!

Prize #1

Two Arch Ride Entry Tickets

Two Arch Ride Event T-Shirts

Prize #2

Two Arch Ride Entry Tickets


Two Arch Ride Event T-Shirts
Get ready for the 15th edition of this southern California off-road classic! Get in the luau state of mind and start putting down miles to train for the SDMBA Archipelago Ride, our signature springtime event. We are proud to have Gravity Heights return in 2023 as our host for the Finish Line Luau. Gravity Heights location offers ample parking for the epic parking lot Finish Line Luau held on top of the parking garage adjacent to the brewery & restaurant. When you roll in from the epic ride you will be greeted with fun, food, vendors, friends and amazing Gravity Heights brews! Families, friends and cheering squads are invited to join in the fun!
JOIN OR RENEW TO ENTER
1 entry for each person who joins or renews their SDMBA membership at any level
1 entry for each current SDMBA member & 1 entry for a referred new member who joins at any level

The promotion runs from 12:00 am (PST) on January 1, 2023, to 11:59 pm (PST) until January 31, 2023
Custom 2023 Arch Ride Gear!

We've teamed up with Canari to release a set of limited edition 2023 Arch Ride apparel!

Available in two epic color schemes, the islander & tropical!

Short-sleeve, 3/4 sleeve & long-sleeve options in both men's & women's cuts.

FEATURES:
- Comfortable loose fit for freedom of movement with or without pads
- Low profile v-neck provides added comfort during rides
- Longer body length for coverage during extreme cycling positions
- Sun protection level UPF 30+
- 100% Polyester - Drycore lightweight performance moisture-wicking fabric

A portion of the proceeds goes back to local trails!

Custom Arch Ride gear is available for pre-order until February 18, 2023. Orders will be shipped to you in time for the event. Get yours before they're gone!

Snag your custom 2023 Arch Ride gear at our LINK IN BIO!

Time to tiki!

Join Over 9,000 Riders & Stay Up To Date On The Latest In San Diego County Mountain Biking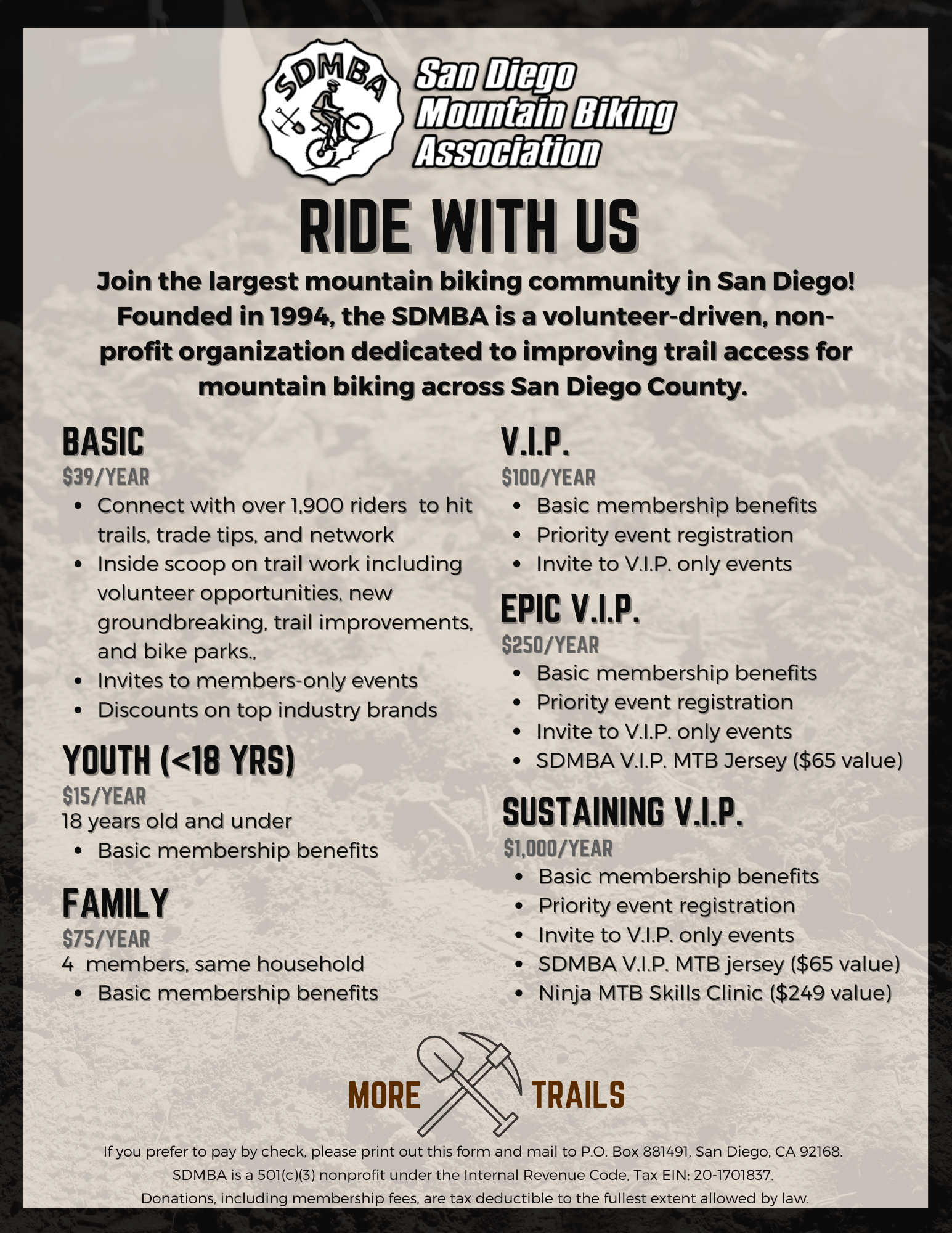 MISSION
The San Diego Mountain Biking Association (SDMBA) is a volunteer-driven, non-profit organization dedicated to maintaining and improving sustainable trail access for mountain biking in San Diego County. Formed in 1994, SDMBA is one of the largest regional trail advocacy organizations in the US with more than 1,700 members. Below is a list of recent accomplishments and ongoing projects. The support of our members, donors, and volunteers makes all of this amazing progress possible. More trails for all! The San Diego Mountain Biking Association works on a wide variety of advocacy and efforts to improve trail access throughout the County of San Diego.
We want to continue the momentum we have gained into 2023! We will continue to drive our mission forward - Improving Trail Access for Mountain Biking in San Diego County.
Implement planned trail projects this winter and early spring at Penasquitos Canyon Preserve, Black Mountain, Daley Ranch, Tri-Canyons, Mount Laguna, Elfin Forest Recreational Reserve, Florida Canyon, Sweetwater Bike Park & more

Anticipate and plan for the approval and implementation of the Mount Laguna Trails Restoration Plan by the Cleveland National Forest which includes almost 8 miles of new trails, reroutes & adopting non-system trails (including Wooded Hill) into the system

Push long-term advocacy efforts for new trails and improvements at Black Mountain Open Space Park, Daley Ranch, Sycamore/Goodan Ranch, Sweetwater Reservoir Loop Trail, Otay Valley Regional Park, Boulder Oaks, US Fish and Wildlife San Diego National Wildlife Refuge, Cuyamaca Rancho State Park, Chula Vista Canyon Trails, and more

Assist as advisors on a new trail project with the La Jolla Band of Luiseno Indians and Global Action Sports Solutions at the La Jolla Indian Reservation

Encourage and support Bike Park development and planning with many jurisdictions around the county

Monitor ebike opportunities and challenges with various agencies and jurisdictions and assist land managers as they navigate evolving policies regarding ebikes

Engage in ongoing planning processes for long-distance trails such as the Coast to Crest Trail, the Trans-County Trail & the San Diego River Trail with partners and stakeholders

Encourage mountain bikers to engage on local planning groups, Citizen's Advisory and Trails committees and with elected officials to ensure our seat at the tables where trail decisions are made

Provide Trail Education/Etiquette materials and content to our entire trails community

Be an active and engaged member organization of the California Mountain Biking Coalition

Monitor issues in our county and regionally that may have an impact on recreational access such as the proposed National Monument in San Diego County and other federal and state regulatory land use efforts

Collaborate with our community partners such as Girlz Gone Riding and Sprockids to make cycling in San Diego more accessible and equitable for all people

Plan for MTB community fun at the Archipelago Ride (4/1/22), Cuyamaca Poker Ride (6/11/23) and the Mount Laguna Tral Fest (10/13-15/23)

Advocate for more legal trails for all skill levels and uses in San Diego County!


JOIN US IN 2023
Simply put, we could not do this without our members, volunteers, and donors; the lifeblood of our organization. Thank you.