Join Today!

Ride Spinergy SDMBA Member Giveaway
Have you been dreaming of new wheels for your trusty mountain bike?
We've teamed up with Spinergy to show appreciation for our SDMBA members and their support for local trail advocacy.
We're giving away $839 towards the Spinergy wheelset of your dreams!
All you have to do is join or renew your membership with the SDMBA during the months of August and September to be entered to win.
Already a member? No problem? You can renew your membership now to get an opportunity at this incentive and we will add 12 months to your current expiration date.
Spinergy is committed to offering a great wheel that will change your ride day in and day out. Wheels that continue to impress as they stand up to the rigors or mountain, e-mtb, gravel and road riding. PBO spokes are the key to why Spinergy wheels are tough as nails, ultralight, and perceptibly smoother in the chunk. Every PBO spoke contains over 30,000 strands of vibration nuking, polyphenylene bensobisoxazole fiber, delivering 3x the strength of steel at half the weight. What are you waiting for? Get rolling on Spinergy wheels today, faster by design!
Follow Spinergy on IG, Facebook & Twitter @RideSpinergy | www.spinergy.com
Prize Specifics: Winner will receive a gift card valued at $839 good towards any full-priced MSRP products available on www.spinergy.com. Join or renew your SDMBA membership during the months of August and September to be entered to win. The winner will be drawn on October 1, 2022. See complete rules HERE.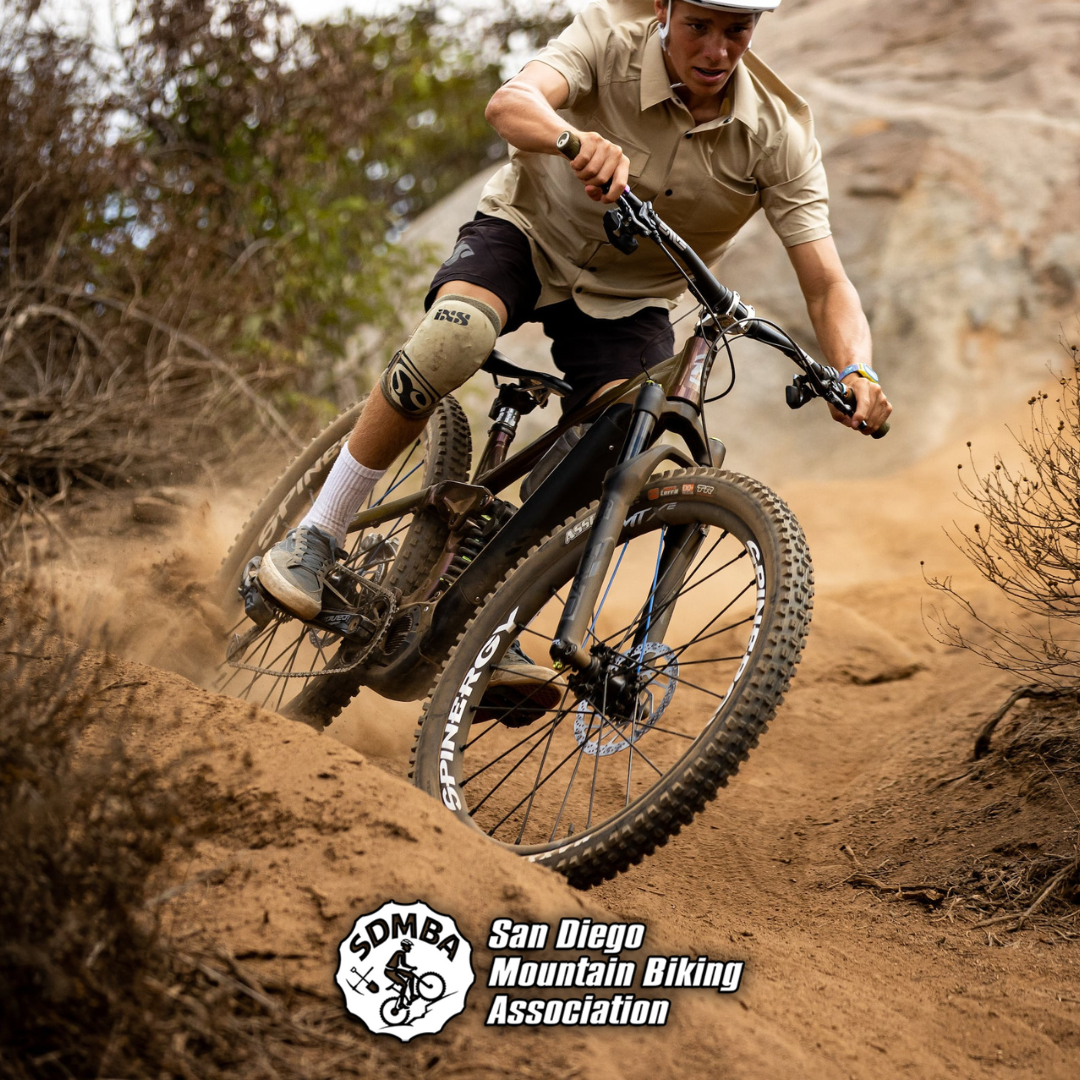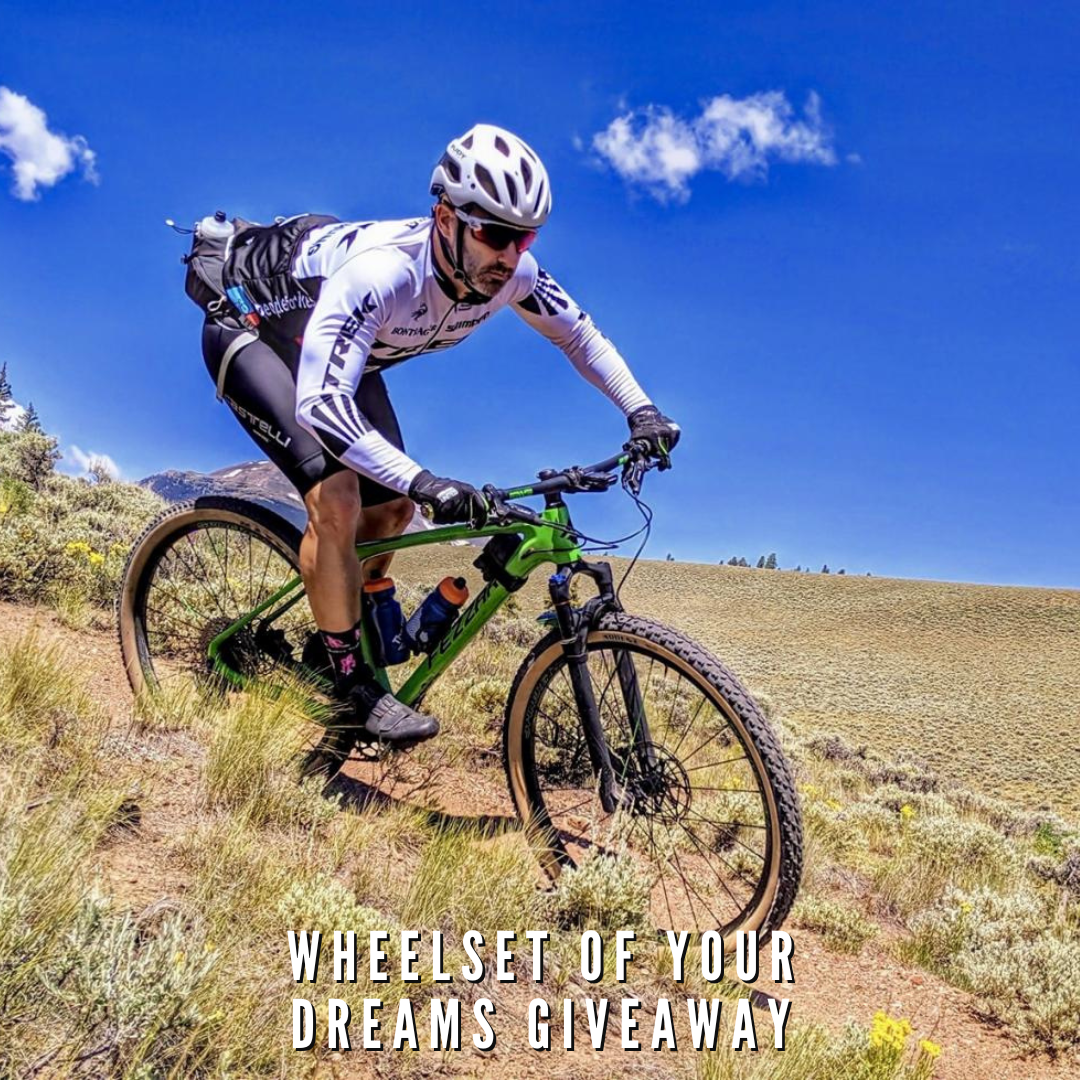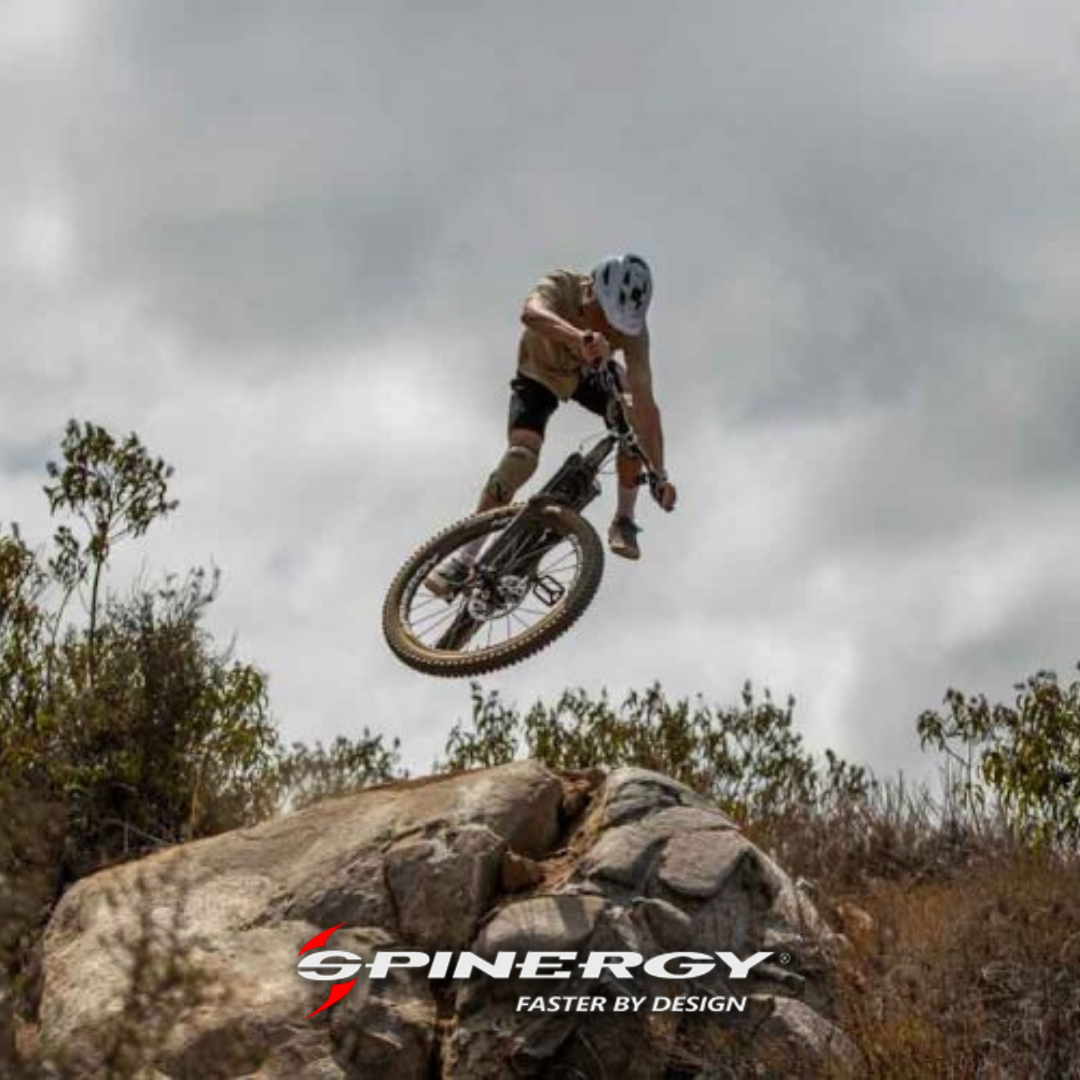 Join Over 9,000 Riders & Stay Up To Date On The Latest In San Diego County Mountain Biking



What It Means To Be A Member
Supporting advocacy efforts for new trails, existing trail improvements, and bike parks

Funding trail restoration, maintenance, planning, and development projects

Supporting operating costs including trail equipment, tools, insurance, planning, and staff

Training and rewarding, and nourishing our hardworking trail volunteers

Planning events including the Arch Ride, Mt. Laguna Trail Fest, and kids-friendly events

Playing your part in building a legacy of legal trails in San Diego County
Simply put, we could not do this without our members, volunteers, and donors; the lifeblood of our organization. Thank you.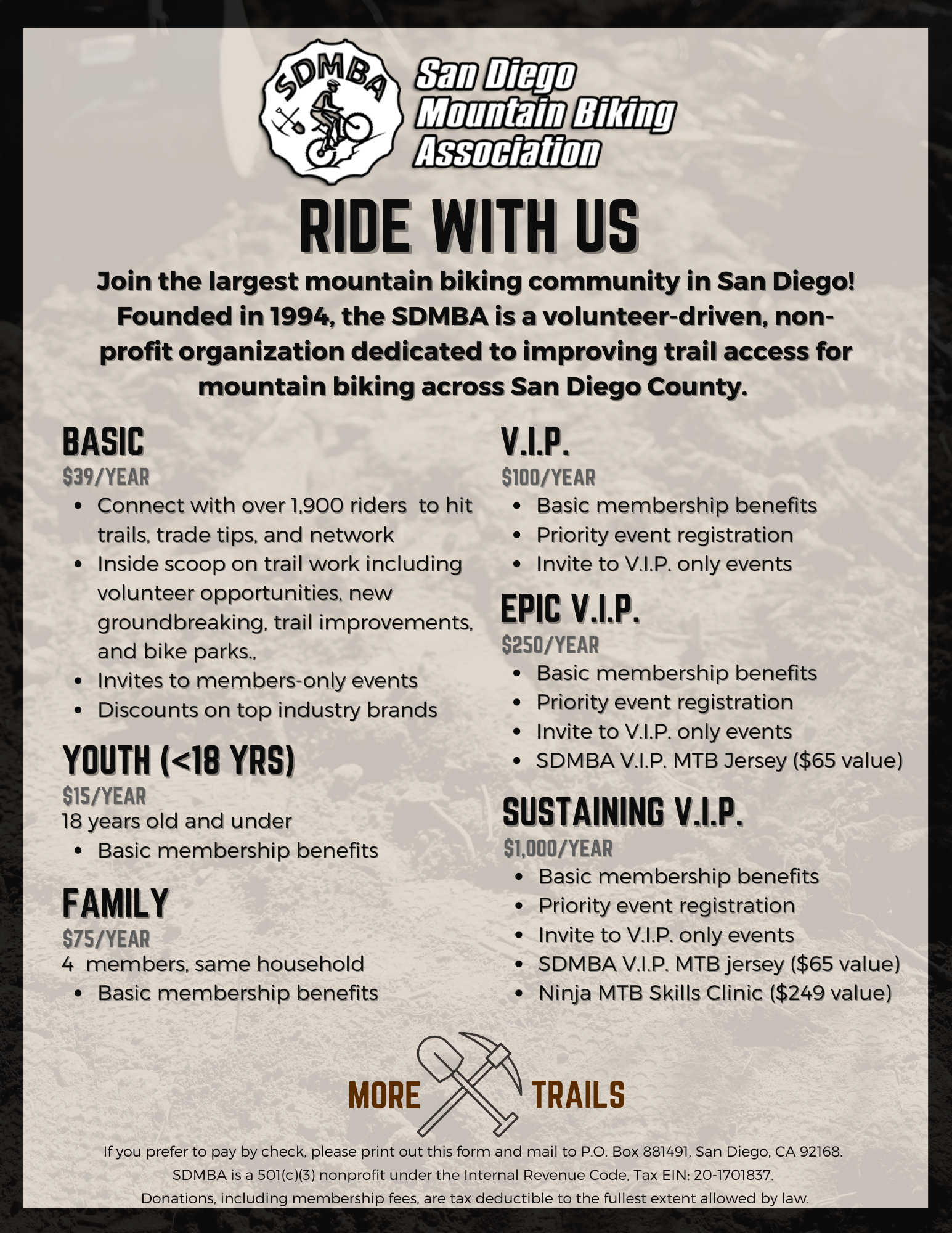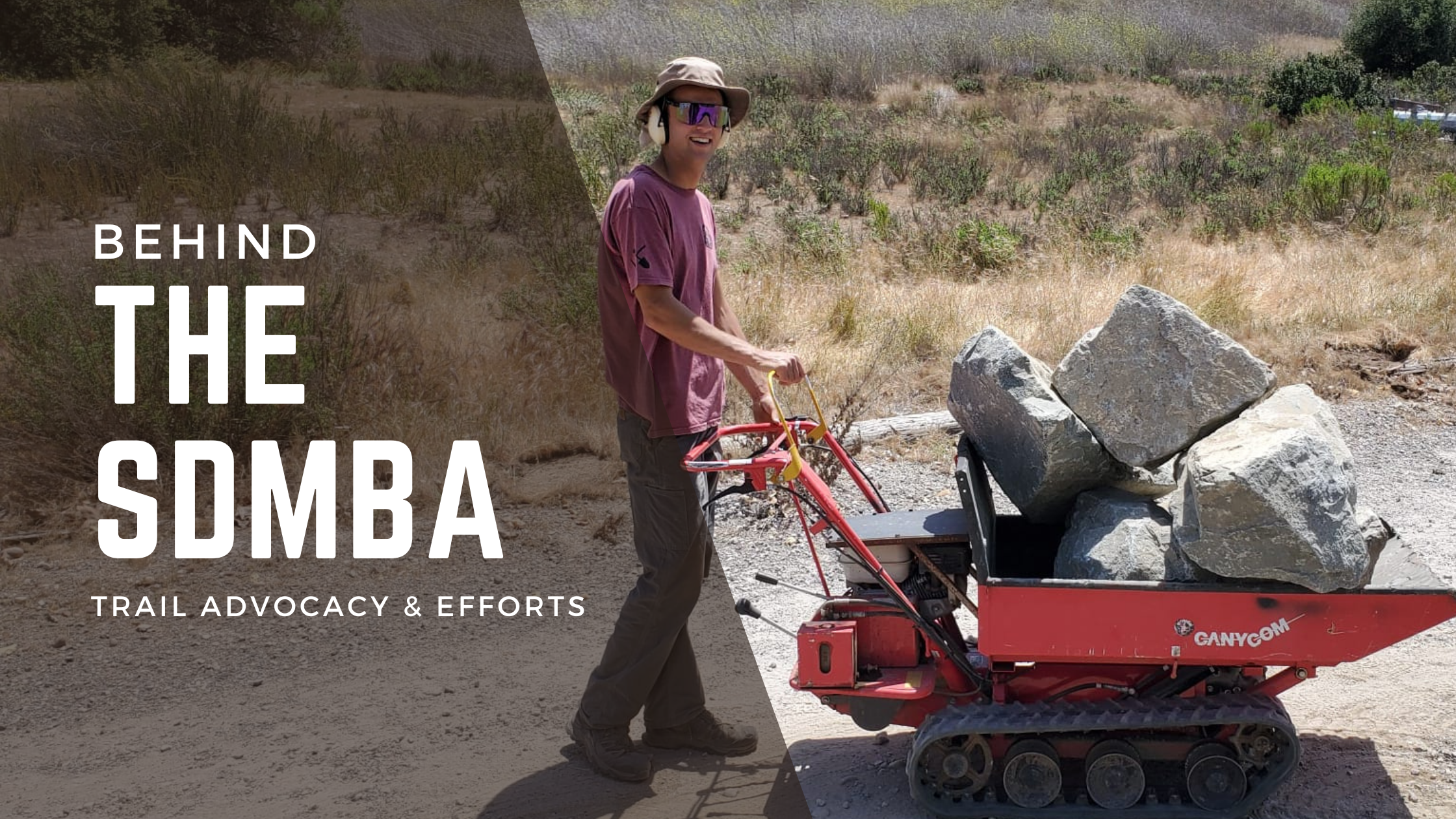 Mission
The San Diego Mountain Biking Association (SDMBA) is a volunteer-driven, non-profit organization dedicated to maintaining and improving sustainable trail access for mountain biking in San Diego County. Formed in 1994, SDMBA is one of the largest regional trail advocacy organizations in the US with more than 1,700 members. Below is a list of recent accomplishments and ongoing projects. The support of our members, donors, and volunteers makes all of this amazing progress possible. More trails for all! The San Diego Mountain Biking Association works on a wide variety of advocacy and efforts to improve trail access throughout the County of San Diego.
Efforts in 2022 include:
Anticipating approval of the Mount Laguna Trails Restoration Plan which includes new trails, reroutes and adopting non-system trails into the trails plan

Long term advocacy efforts for new trails and improvements at Black Mountain Open Space Park, Daley Ranch, Sycamore/Goodan Ranch, Sweetwater Reservoir Loop Trail, Otay Valley Regional Park, Boulder Oaks, US Fish and Wildlife San Diego National Wildlife Refuge, Cuyamaca Rancho State Park, various trans-county connections and more

Ongoing Trail improvements in Chula Vista as part of the Rice and Snake Canyon Loop Trail Pilot Program (including eight bridges) and continuing work with the city on additional trail approvals

Working with the City of San Diego on trail improvements across all parks and open spaces most recently in the Tri Canyons area including the installation of five new bridges.

Advisory role on a new trail project with the La Jolla Band of Luiseno Indians and Global Action Sports Solutions

Bike Park development and planning with many jurisdictions around the county

Track maintenance and improvement at Sweetwater Bike Park

Trail Bell Program ongoing at Penasquitos Canyon Preserve, Black Mountain Open Space Park, San Dieguito River Park, Elfin Forest and the Cleveland National Forest

Monitoring expanding ebike access from various agencies and jurisdictions such as the County of San Diego and the City of San Marcos

Advocating for the finalization of several trail segments to be open to mountain bikes in Cuyamaca Rancho State Park which were approved in the General Plan in 2015

Continuing Trail Education/Etiquette efforts to our trails community including collaborations with the equestrian community

Mountain Bike Trail Challenge project with the County of San Diego

Following and supporting legislation that is supportive of trail development as a member of the California Mountain Biking Coalition

Engagement on the Chaparral Pacific Crest National Monument Proposal with Outdoor Alliance and other partners

Joining with our community partners such as Girlz Gone Riding and Sprockids to make cycling in San Diego more accessible and equitable for all people

Continually increasing the capacity of our professional staff for trail building and maintenance to include mechanized construction, needs assessment, mapping, and conservation crew supervision.

Our top priority always is advocating for more legal trails for all skill levels in San Diego County!