Join Today!

Membership is an essential funding source that enables The San Diego Mountain Biking Association to improve trail access for mountain biking in San Diego County.
Join or Renew in July - Get a Chance to Win a Prize Pack from SixSixOne
So much gear for YOU to be set for the season from our sponsors at SixSixOne. Prize Pack includes Helmet, gloves, compression top, Goggles and Elbow Pads valued at $360!

Winner will be drawn on August 1, 2021.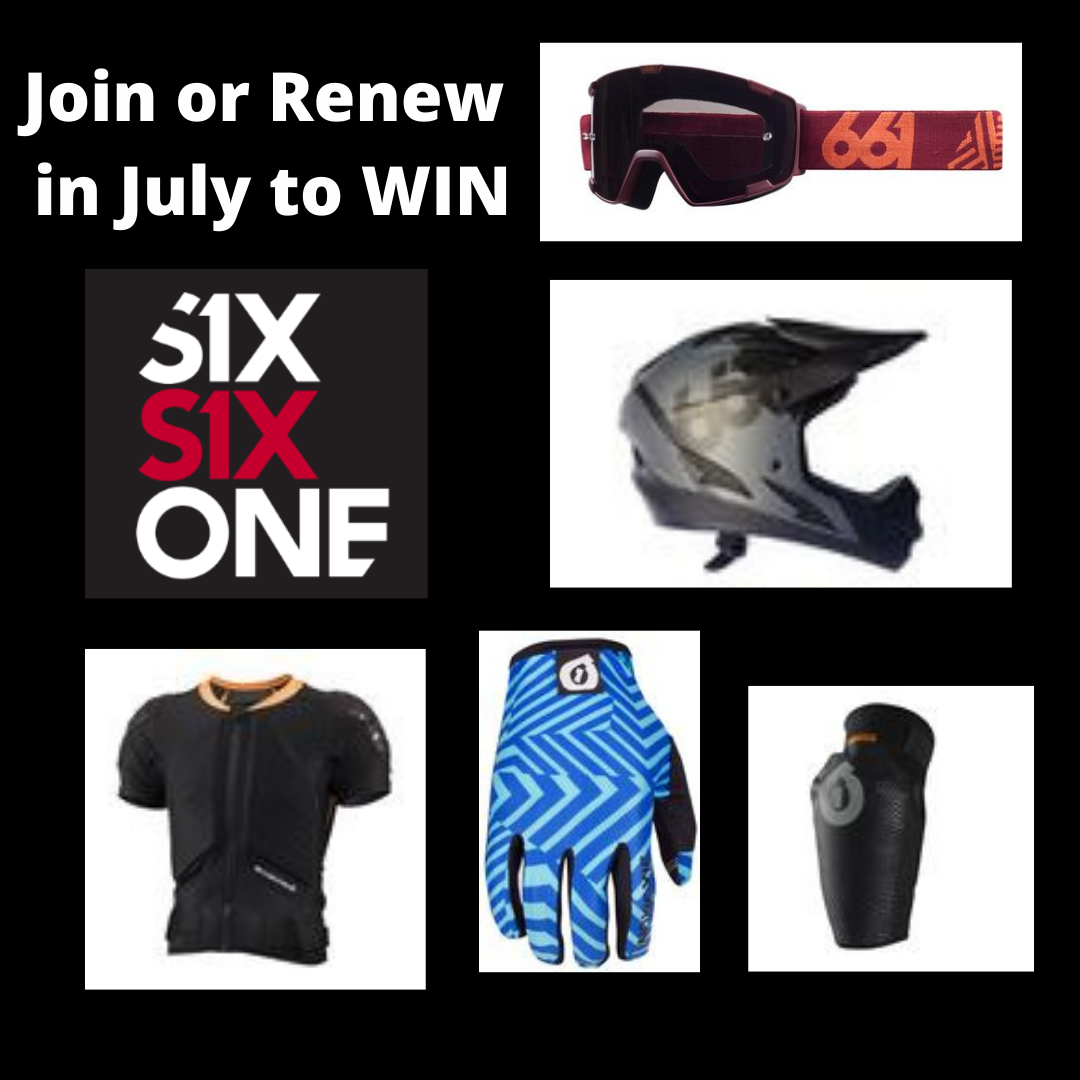 Here is how your membership dues help:
COVID-19 trail and park updates, targeted advocacy and communication with land managers to facilitate safe access
Advocacy for new trail projects

Fund trail restoration, maintenance, planning and construction projects

Support operating costs including trail equipment and tools, insurance for members and volunteers, planning, and staff

Train and reward our hardworking trail volunteers with food, beverages, and good times

Plan fun community events throughout the year like the Archipelago Ride and the Mount Laguna Trail Fest

Provide knowledge that you are helping build a legacy of legal trail in San Diego County
Simply put, we cannot do this without our members and volunteers who are the lifeblood of our organization.
There are several annual membership levels to choose from:
Basic $39

Student $15 - 18 and under

Family $75 - up to 4 family members living in the same household

VIP $100 - Priority registration to participate in VIP events

Epic VIP $250 - Priority registration to participate VIP events + SDMBA VIP Jersey by Canari ($65 value)

Sustaining VIP $1000 - Priority registration to participate in VIP events + SDMBA VIP Jersey by Canari ($65 value) + Ninja MTB Performance Fundamentals Clinic, Co-Ed or Women's Only ($249 Value)
All levels receive:
Bi-monthly Trail News

special advocacy alerts and calls to action

opportunities to volunteer

invitations and priority registration at events

Discount and special offers from select sponsors like local bike shops, Athletic Brewing Company, Battle Balm, Kayak Coffee, MTB travel opportunities, Hollywood Racks, Zealios, Floyd's of Leadville, ExpertVoice and many more!
If you prefer to pay by check, please print out this form and mail to P.O. Box 881491, San Diego, CA 92168.
SDMBA is a 501(c)(3) nonprofit under the Internal Revenue Code, Tax EIN: 20-1701837. Donations, including membership fees, are tax deductible to the fullest extent allowed by law.