Join Today!



WHAT IT MEANS TO BE A MEMBER



Supporting advocacy efforts for new trails, existing trail improvements, and bike parks

Funding trail restoration, maintenance, planning, and development projects

Supporting operating costs including trail equipment, tools, insurance, planning, and staff

Training and rewarding, and nourishing our hardworking trail volunteers

Planning events including the Arch Ride, Mt. Laguna Trail Fest, and kids-friendly events

Playing your part in building a legacy of legal trails in San Diego County


---
JUNE MEMBERSHIP INCENTIVE

Join SDMBA or renew your membership in June and get your chance to
win a New Belgium Brewing 2023 Custom Commuter Bike
designed by Brooklyn Bicycle Company
This bike was built for any type of ride, from summer slow rolls around town to longer treks off the beaten path. With 27.5-inch wheels, 2-inch-thick tires, and 8 gears for maximum speed options, this bike will take you wherever you want to go. Match the sunset on this beauty and enjoy the ride. The unique graffiti inspired design highlights New Belgium's 32-year history and is prime for summer cruising!
About New Belgium Brewing Co.:
New Belgium Brewing Company, long time friends and supporters of SDMBA, has been a human-powered company from the beginning. Before their founders ever sold a bottle of beer, they hiked into Rocky Mountain National Park with a jug of home brew to outline the values that would shape the brewery. As a certified B Corp, New Belgium continues its commitment to being a brewery for good. They put people and community first, consider the environmental and social impact of their work, and strive to set the highest standards of taste and quality when it comes to their craft—making great beer.
About Brooklyn Bicycle Co.:
They build bikes for vivid lives—for taking adventures, reconnecting with old friends, discovering new neighborhoods and exploring hidden gems. Inspired by the streets of Brooklyn, their bikes are built for style, comfort, and durability. Made with top quality parts, crafted with care, and sold at an affordable price, your bike is yours for life. They scrutinize every component for maximum sustainability and performance, and every millimeter of the frame for ultimate comfort and style. They take pride in their process, in their products, and in the people who sell them.
Winner will be chosen by random draw on JULY 1, 2023.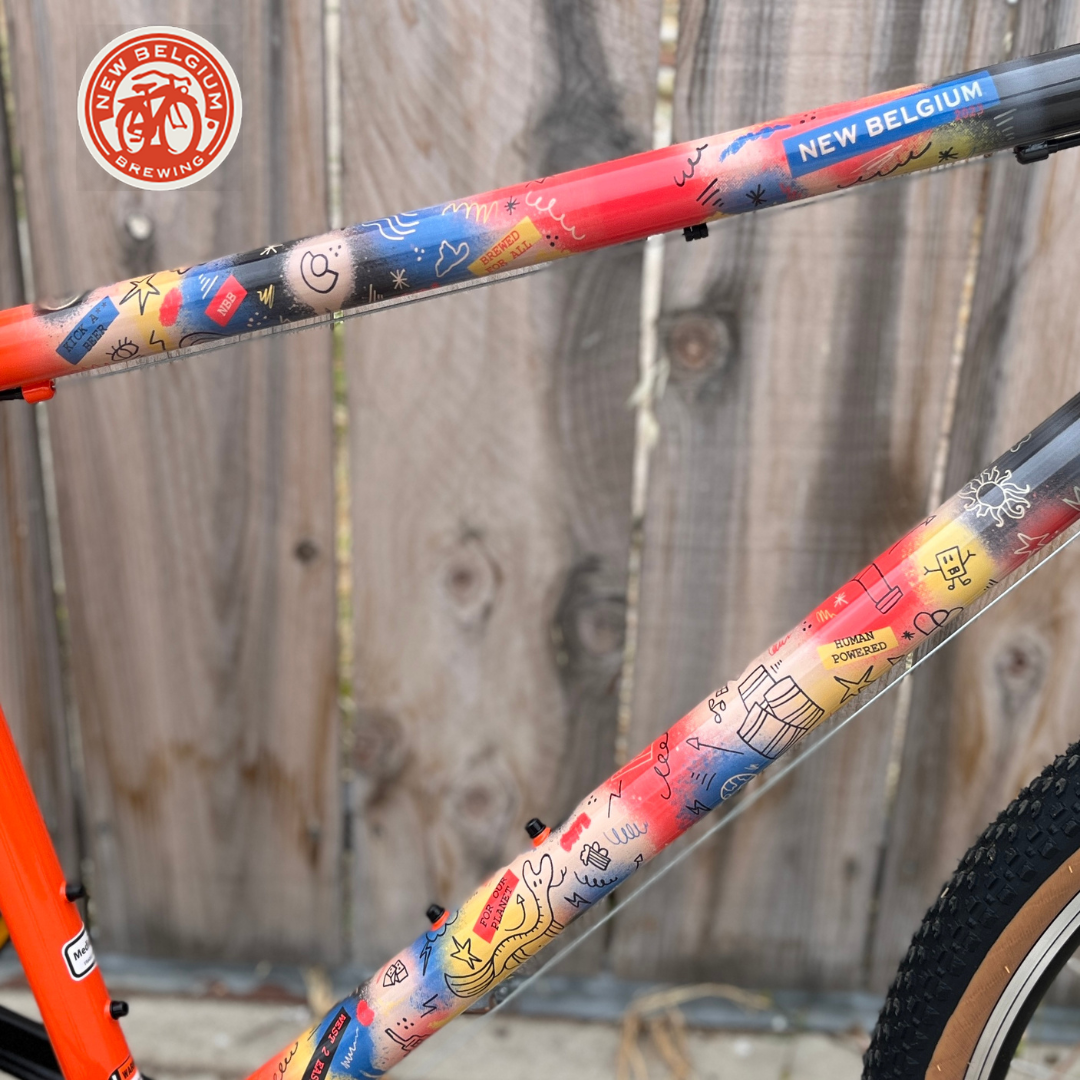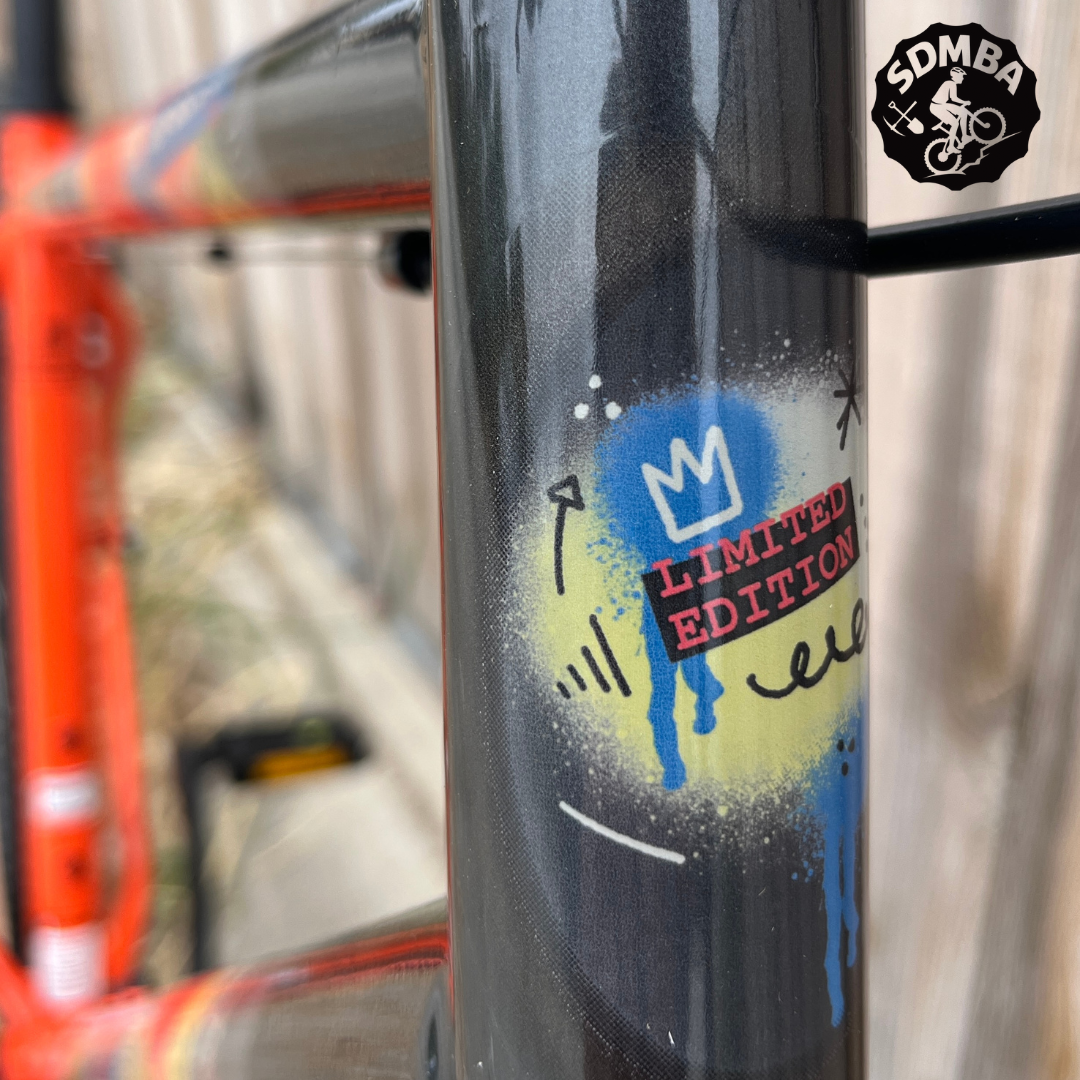 JOIN OR RENEW TO ENTER
1 entry for each person who joins or renews their SDMBA membership at any level
1 entry for each current SDMBA member & 1 entry for a referred new member who joins at any level

The promotion runs from 12:00 am (PST) on June 1, 2023, to 11:59 pm (PST) until Jun 30, 2023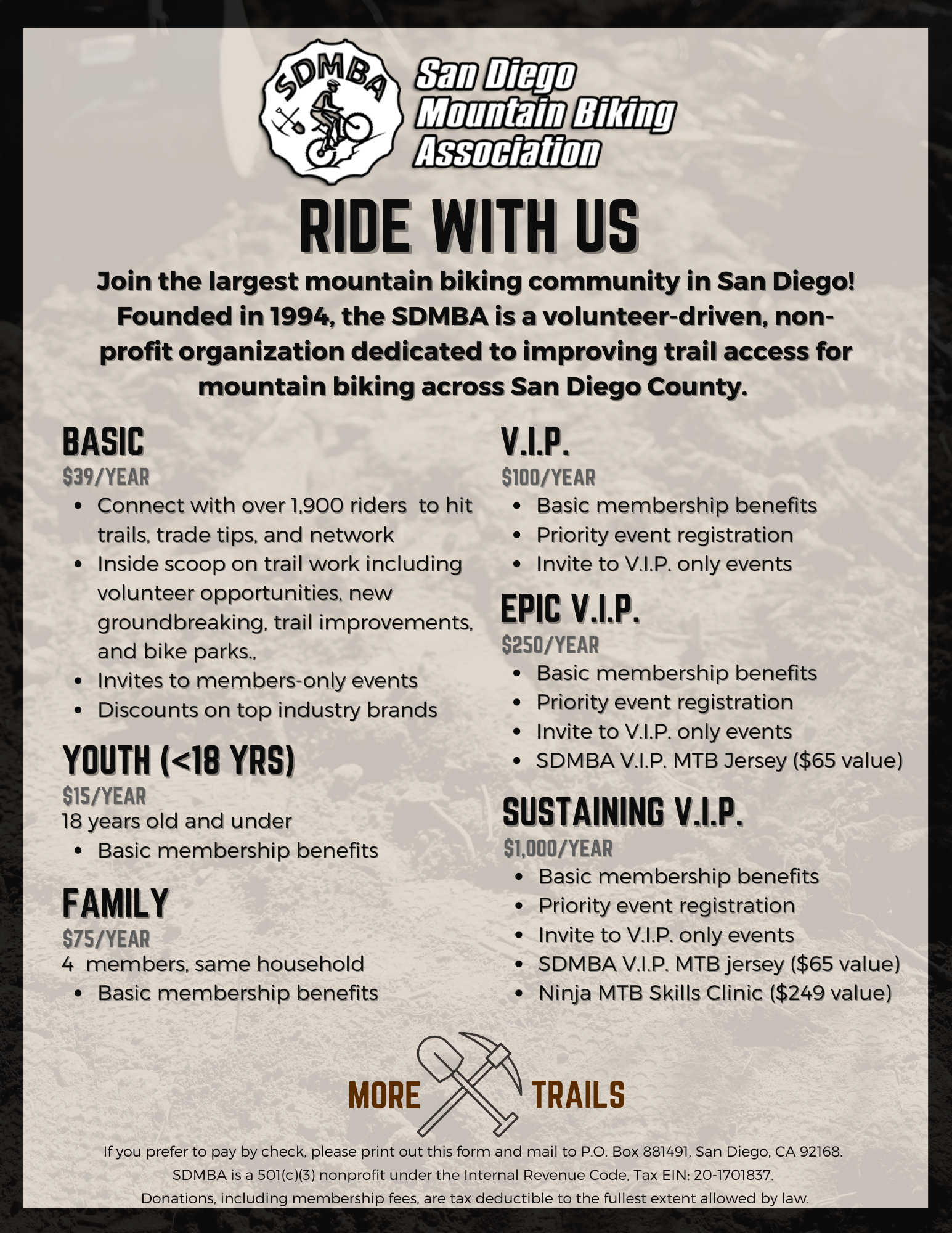 Please note: Our membership dues will increase on August 1, 2023 for some membership packages.


MISSION: To Improve Trail Access for Mountain Biking in San Diego County
The San Diego Mountain Biking Association (SDMBA) is a volunteer-driven, non-profit organization dedicated to maintaining and improving sustainable trail access for mountain biking in San Diego County. Formed in 1994, SDMBA is one of the largest regional trail advocacy organizations in the US with more than 1,800 members. Below is a list of recent accomplishments and ongoing projects. The support of our members, donors, and volunteers makes all of this amazing progress possible. More trails for all! The San Diego Mountain Biking Association works on a wide variety of advocacy and efforts to improve trail access throughout the County of San Diego.
We want to continue the momentum we have gained into 2023! We will continue to drive our mission forward - Improving Trail Access for Mountain Biking in San Diego County.
Implement planned trail projects this winter and early spring at Penasquitos Canyon Preserve, Black Mountain, Daley Ranch, Tri-Canyons, Mount Laguna, Elfin Forest Recreational Reserve, Florida Canyon, Sweetwater Bike Park & more

Anticipate and plan for the approval and implementation of the Mount Laguna Trails Restoration Plan by the Cleveland National Forest which includes almost 8 miles of new trails, reroutes & adopting non-system trails (including Wooded Hill) into the system

Push long-term advocacy efforts for new trails and improvements at Black Mountain Open Space Park, Daley Ranch, Sycamore/Goodan Ranch, Sweetwater Reservoir Loop Trail, Otay Valley Regional Park, Boulder Oaks, US Fish and Wildlife San Diego National Wildlife Refuge, Cuyamaca Rancho State Park, Chula Vista Canyon Trails, and more

Encourage and support Bike Park development and planning with many jurisdictions around the county

Monitor ebike opportunities and challenges with various agencies and jurisdictions and assist land managers as they navigate evolving policies regarding ebikes

Engage in ongoing planning processes for long-distance trails such as the Coast to Crest Trail, the Trans-County Trail & the San Diego River Trail with partners and stakeholders

Encourage mountain bikers to engage on local planning groups, Citizen's Advisory and Trails committees and with elected officials to ensure our seat at the tables where trail decisions are made

Provide Trail Education/Etiquette materials and content to our entire trails community

Be an active and engaged member organization of the California Mountain Biking Coalition

Monitor issues in our county and regionally that may have an impact on recreational access such as the proposed National Monument in San Diego County and other federal and state regulatory land use efforts

Collaborate with our community partners such as Girlz Gone Riding and Sprockids to make cycling in San Diego more accessible and equitable for all people

Plan for MTB community fun at the Archipelago Ride (5/6/23) and the Mount Laguna Trail Fest (10/13-15/23)

Advocate for more legal trails for all skill levels and uses in San Diego County!


JOIN US IN 2023
Simply put, we could not do this without our members, volunteers, and donors; the lifeblood of our organization. Thank you.