Join Today!



SKYPARK BIKE PARK ANNUAL PASS GIVEAWAY
Hero dirt with epic views
Whether you are a new or experienced mountain bike rider, the trails at SkyPark at Santa's Village are for you!
SkyPark's Bike Park is in a league of its own. The trail network winds through a thick canopy of pine trees and boasts several well-marked, directional mountain bike trails. There are also two skills areas as well as pump tracks for our youngest riders. The trails are groomed daily, the berms and jumps are just perfect, and they even have beautifully crafted wood features.




Access to all outdoor adventures is included with your annual pass. Once you are done biking for the day, head into the village for all types of fun for the whole family!
archery, axe throwing, & bb gun range

rock climbing

pedal cars

roller skating rink

pro bike shop

delicious restaurants

craft beer at the Pedal Pub

& more
SkyPark at Santa's Village is the perfect location for the entire family to have fun on and off the bike!



JOIN OR RENEW TO ENTER
Join or renew your SDMBA membership during the month of January and receive one entry to the SkyPark at Santa's Village Annual Pass Giveaway.
REFER A FRIEND | DOUBLE YOUR CHANCES
New year, new rides, new friends! We're looking to grow the mountain biking community locally and want your help! Get your trail friend to sign up for the SDMBA and you both will receive 2 BONUS ENTRIES to the SkyPark at Santa's Village Annual Pass Giveaway! That's a total of four entries, two for you and two for your referral. Double your chances to win a year pass to SkyPark Bike Park!
HOW IT WORKS
Join or Renew in January 2023 & receive 1 entry in the SkyPark Bike Park Annual Pass Giveaway
Refer a new SDMBA member in January 2023 & you BOTH receive 2 entries in the SkyPark Bike Park Annual Pass Giveaway
Refer a new SDMBA member, upon completing their registration with the SDMBA, submit your referral at the link below to claim your bonus entries! Once the new SDMBA membership is confirmed both you & your referral will receive TWO ENTRIES EACH for the SkyPark Bike Park year pass giveaway! Good luck & happy trails!



WHAT IT MEANS TO BE A MEMBER
Supporting advocacy efforts for new trails, existing trail improvements, and bike parks

Funding trail restoration, maintenance, planning, and development projects

Supporting operating costs including trail equipment, tools, insurance, planning, and staff

Training and rewarding, and nourishing our hardworking trail volunteers

Planning events including the Arch Ride, Mt. Laguna Trail Fest, and kids-friendly events

Playing your part in building a legacy of legal trails in San Diego County

Join Over 9,000 Riders & Stay Up To Date On The Latest In San Diego County Mountain Biking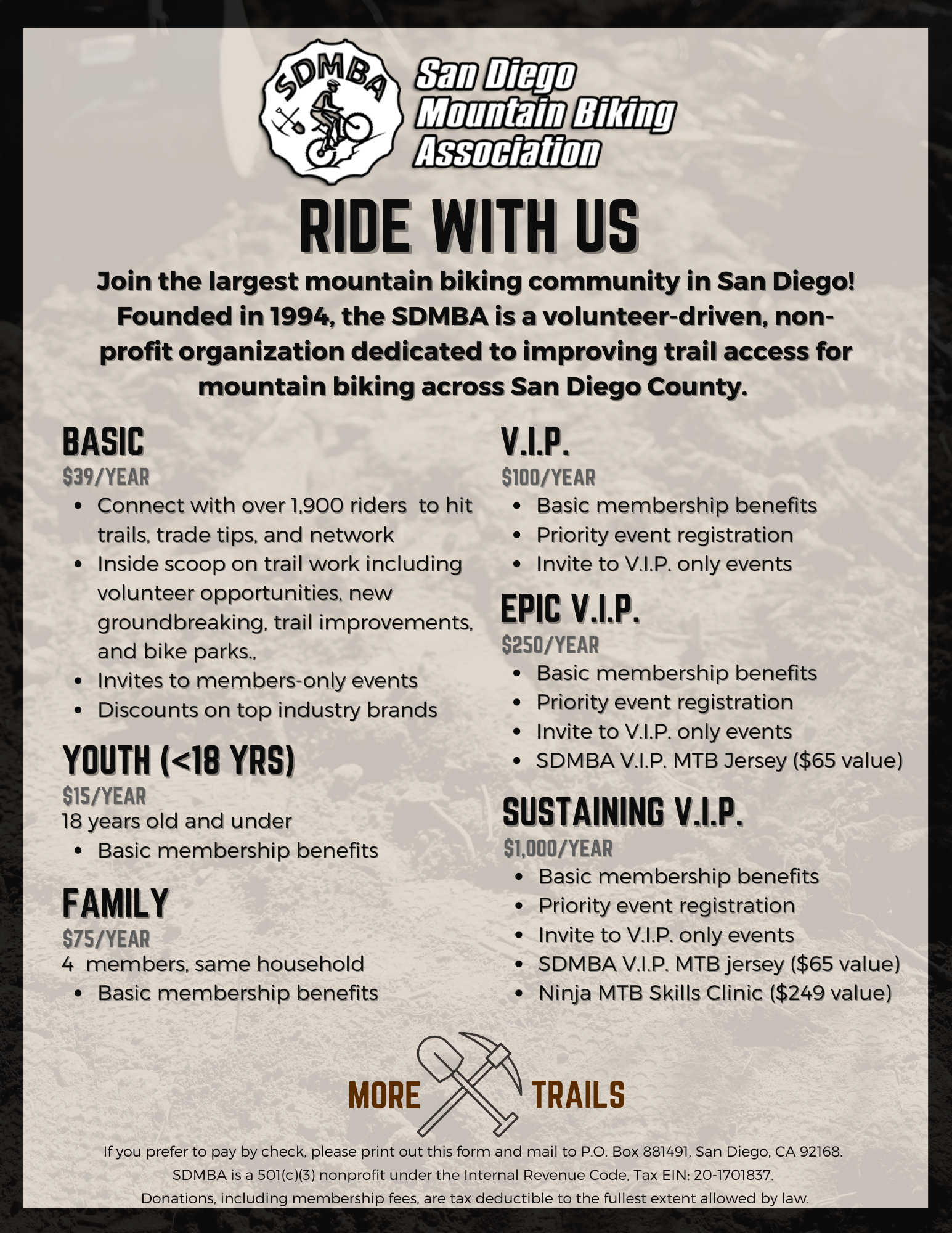 MISSION
The San Diego Mountain Biking Association (SDMBA) is a volunteer-driven, non-profit organization dedicated to maintaining and improving sustainable trail access for mountain biking in San Diego County. Formed in 1994, SDMBA is one of the largest regional trail advocacy organizations in the US with more than 1,700 members. Below is a list of recent accomplishments and ongoing projects. The support of our members, donors, and volunteers makes all of this amazing progress possible. More trails for all! The San Diego Mountain Biking Association works on a wide variety of advocacy and efforts to improve trail access throughout the County of San Diego.
We want to continue the momentum we have gained into 2023! We will continue to drive our mission forward - Improving Trail Access for Mountain Biking in San Diego County.
Implement planned trail projects this winter and early spring at Penasquitos Canyon Preserve, Black Mountain, Daley Ranch, Tri-Canyons, Mount Laguna, Elfin Forest Recreational Reserve, Florida Canyon, Sweetwater Bike Park & more

Anticipate and plan for the approval and implementation of the Mount Laguna Trails Restoration Plan by the Cleveland National Forest which includes almost 8 miles of new trails, reroutes & adopting non-system trails (including Wooded Hill) into the system

Push long-term advocacy efforts for new trails and improvements at Black Mountain Open Space Park, Daley Ranch, Sycamore/Goodan Ranch, Sweetwater Reservoir Loop Trail, Otay Valley Regional Park, Boulder Oaks, US Fish and Wildlife San Diego National Wildlife Refuge, Cuyamaca Rancho State Park, Chula Vista Canyon Trails, and more

Assist as advisors on a new trail project with the La Jolla Band of Luiseno Indians and Global Action Sports Solutions at the La Jolla Indian Reservation

Encourage and support Bike Park development and planning with many jurisdictions around the county

Monitor ebike opportunities and challenges with various agencies and jurisdictions and assist land managers as they navigate evolving policies regarding ebikes

Engage in ongoing planning processes for long-distance trails such as the Coast to Crest Trail, the Trans-County Trail & the San Diego River Trail with partners and stakeholders

Encourage mountain bikers to engage on local planning groups, Citizen's Advisory and Trails committees and with elected officials to ensure our seat at the tables where trail decisions are made

Provide Trail Education/Etiquette materials and content to our entire trails community

Be an active and engaged member organization of the California Mountain Biking Coalition

Monitor issues in our county and regionally that may have an impact on recreational access such as the proposed National Monument in San Diego County and other federal and state regulatory land use efforts

Collaborate with our community partners such as Girlz Gone Riding and Sprockids to make cycling in San Diego more accessible and equitable for all people

Plan for MTB community fun at the Archipelago Ride (4/1/22), Cuyamaca Poker Ride (6/11/23) and the Mount Laguna Tral Fest (10/13-15/23)

Advocate for more legal trails for all skill levels and uses in San Diego County!


JOIN US IN 2023
Simply put, we could not do this without our members, volunteers, and donors; the lifeblood of our organization. Thank you.